Pool Rules Reminder ~ Whittingham HOA eMail Bulletin
7/29/2019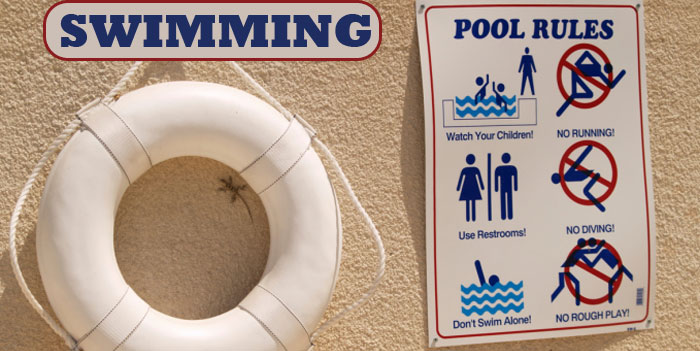 Whittingham HOA Swimming Pool Rules Reminder
Remember - There is No eating permitted at the pool, you must go to the patio outside the pool.
Swimming Pool Rules and Regulations
¨ ABSOLUTELY NO ADMISSION TO THE POOL WITHOUT A POOL BADGE (Residents must use the Resident Badge)
¨ GUESTS MUST BE ACCOMPANIED BY A RESIDENT AT ALL TIMES DURING AUTHORIZED HOURS
¨ SHOWERING IS REQUIRED BEFORE ENTERING POOL OR JACUZZI
1. Lifeguards are empowered to enforce all pool rules and regulations. Enforcement may include ejection from the pool and premises for date of violation.
2. Use of the pool is allowed only if a lifeguard is present.
3. Children under 10 years of age must be physically accompanied in the water at all times
4. Minimum age for use of the pool is 3 years of age. (NO Diapers)
5. Children that are not toilet trained or wearing diapers are not allowed in the pool.
6. Pool badges must be visible at all times.
7. Proper swim attire and shoes required.
8. Furniture will not be moved by anyone but Management/Lifeguards and must remain in designated areas. Furniture is available on a first-come, first-serve basis.
9. Diving, running and other unsafe conduct is prohibited.
10. Food and beverages are prohibited within the gated area.
11. Bottled water, in plastic containers only, allowed in the pool area.
12. Flotation devices supplied by the Association will be allowed to be used by residents, children and other guests at any time in the indoor pool. Flotation devices, such as arm swimmies and safety vests, that are supplied by residents and/or their guests, will be allowed to be used by children in the indoor or outdoor pools.
13. Pets (except service dogs) are prohibited in the pool area.
14. Smoking is prohibited.
15. Persons under the influence of drugs or alcohol shall be prohibited from entering the pool.
16. Standees will extend all courtesies to lap swimmers during authorized times.
17. Additional rules & regulations can be found in the WHOA Rules & Regulations.

This is a Publication of Whittingham HOA